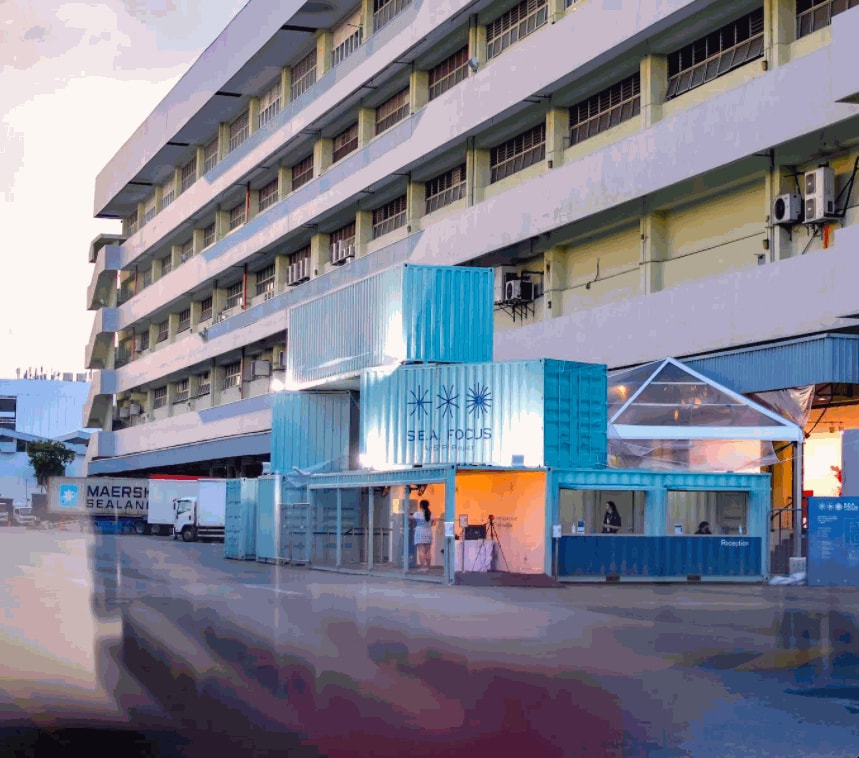 S.E.A. Focus Entrance at Tanjong Pagar Distripark. Image Courtesy of S.E.A. Focus
Yeo Workshop is pleased to present new works by Sarah Choo Jing, Maryanto and Citra Sasmita at S.E.A Focus 2022. Returning with the theme Chance Constellations, the fourth edition of S.E.A Focus is an exploration of the shared histories, geographies and converging cultures that connect the artistic community in this region. It seeks to reflect how humankind has been dependent on constellations to navigate, orientate and locate our place in the world, and how we choose to align the dots to create images that are born out of our human imagination.
Building on his ongoing research around the pillaging of land in Indonesia, Maryanto investigates the burgeoning exploitation of sand in the area for urban development and global production, at a pace that increasingly exceeds natural renewal. While he reflects on the asymmetrical power relations within this lucrative industry, Citra Sasmita highlights female agency and solidarity in her paintings. She draws on symbols from traditional Balinese culture to reimagine scenes of genesis. Looking closer to home, Sarah Choo Jing brings a composite of hawker centres in Singapore in her new work that invokes the familiar and nostalgic. Alongside the exhibition at Tanjong Pagar Distripark, Quynh Dong will also be showing My Paradise at Projector X: Riverside as part of the S.E.A Focus Official Fringe Programme. A sardonic commentary on the yearning for Eden, the video work features Dong's parents as protagonists within a dream-like, yet kitschy landscape of Vietnamese idealism.
---
VISITOR INFORMATION
Vernissage (by invitation only)
Thu 13 Jan, 5-9pm
VIP Preview (by invitation only)
Fri 14 Jan,12-8pm
Public days
15 Jan – 22 Jan, 1-8pm
23 Jan, 1-5pm